Meet the Candidates: 2023 Princeton Public Schools Board of Education election
October, 2023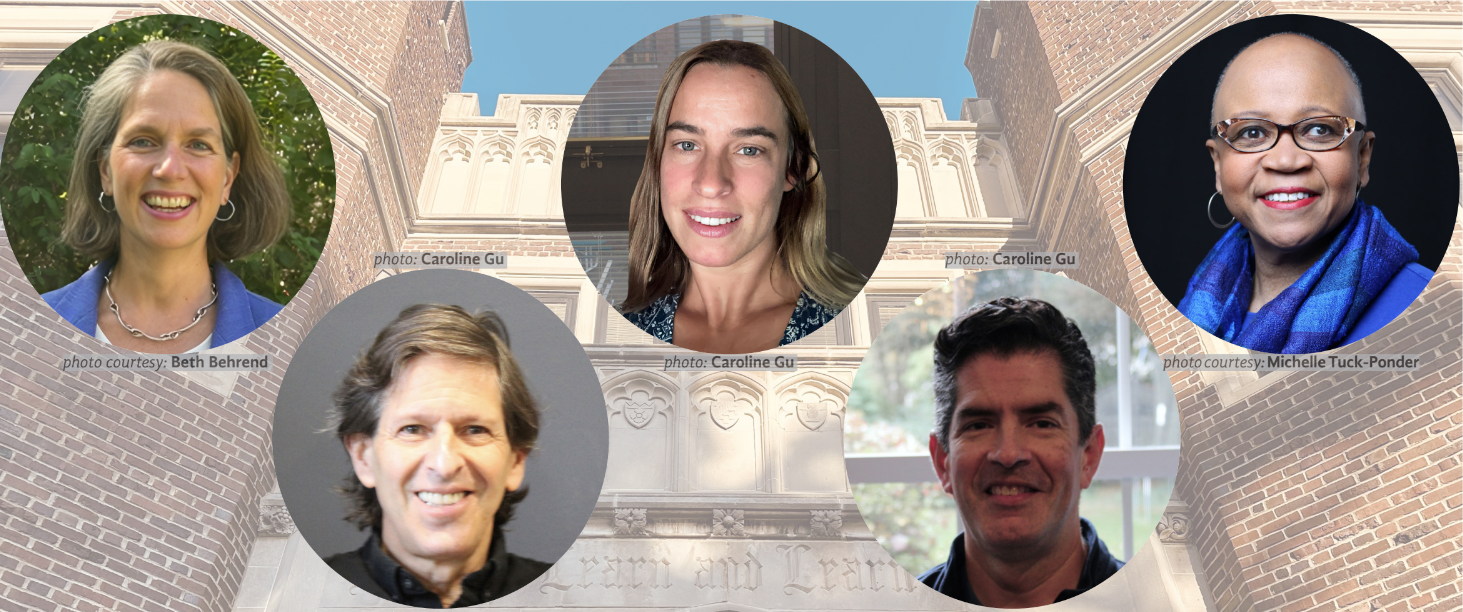 With the Princeton Public Schools Board of Education election taking place on Tuesday, November 7, five candidates have entered the race to fill three open seats: Adam Bierman, Beth A. Behrend, Eleanor Hubbard, Michele Tuck-Ponder, and Rene Obregon Jr. Current Board member Jean Durbin has decided not to run for reelection, while incumbents Behrend and Tuck-Ponder are both seeking a third term.
Adam Bierman
Native Princetonian and PHS alum, Adam Bierman '78, is running for the Board of Education for the third time. After an unsuccessful run in the 2020 election, Bierman participated in the BoE's strategic planning process, in which he hoped to address topics like overcrowding and understaffing in Princeton Public Schools.
"We just talk[ed] about nouns and pronouns and what we wanted a PHS senior to be," said Bierman. "Discussing metaphors and words is interesting, but how does that translate to something substantial for our vision?"
Not only does Bierman hope to tackle the issues that matter, but as a social studies teacher who's taught both abroad in Latin America and China, and locally in Mercer County, he believes that he has the experience needed to organize and implement programs proposed by the board.
"When you teach students… you have to learn how to deal with people on so many levels: emotional, educational, academic," remarked Bierman. "We don't agree on everything, but we find compromises and are able to move forward."
If elected, Bierman stresses the importance of making sure that the district's funding isn't wasted in insignificant places, but is used where it matters most—education.
"I want to get rid of these distractions—I want to focus on education. Money should be driven back to the classroom … [because] the teachers, they are the front line," said Bierman.
Beth A. Behrend
Having first joined the Board of Education in 2017 to tackle planning and budget challenges, Beth Behrend is running for re-election with the hope of ensuring that the district continues to offer a diverse set of programs and opportunities to all children, even amidst financial restraints.
"With a budget that's increasingly difficult [in an inflationary environment], we need to continue to be able to offer excellent curricular and extracurricular opportunities for all students," said Behrend. "We have over half a million dollars in deficit every year if no prices go up … so we have to use the staff we have most effectively … and make sure there's enough funding [while] teaching what is required and delivering a well-rounded education."
After six years on the BoE, Behrend recognizes the importance of listening to students and parents, as well as honoring feedback and respecting different perspectives, but stresses the importance of continuing to move forward as stewards of the whole district.
"My focus is to meet the needs of the children as they come to us … to make sure that schools are more integrated [and] that we're not leaving anyone out … so that all kids have what they need to reach their potential" said Behrend. "There's so much to be done. It's a really exciting role and I just like to keep doing the work because it's very meaningful and it makes such an impact on the lives of so many kids."
Rene Obregon Jr.
Lifelong New Jersey resident and CEO of the U.S. branch of the investment bank Numis Securities, Rene Obregon is one of the first-time candidates running for the Board of Education.
Having attended public school himself in Northern Jersey and with two sons currently enrolled at PHS, Obregon believes that good public school education is fundamental.
"I don't think our school system is broken, I just think that there are some things that can be improved, [for example] communication to the community," Obregon said.
To do so, he hopes to use his background in collaboration and data analysis. Rather than using non-specific experience-based feedback, Obregon wants to introduce a data-based approach to evaluating school performance by, for instance, tracking school-wide percentages of passing grades or by zeroing in on metrics like chronic absenteeism.
"There's a lot of flowery language. But I think [that we] need hard key performance indicators so we can measure the progress of the superintendent and of the Board and what we're trying to do," Obregon said.
Obregon hopes to recreate trust between members of the PPS community and the School Board.
"There's been a breakdown of trust, and it comes down to this communication and transparency. I think you can rebuild this trust with the students, the parents, and the taxpayers if you're just more transparent," Obregon said.
Michele Tuck-Ponder
Former Princeton Township mayor and long-time board member, Michele Tuck-Ponder, is the second candidate running for reelection this November. Tuck-Ponder first decided to run in 2017 to help provide more opportunities for disadvantaged students who may not progress to college and instead choose a different path.
"For every student, whether you want to go to an Ivy League school or become a chef, we should be thinking about how we can offer an education that is going to give the skills to be successful, no matter what it is they do," said Tuck-Ponder. "I'm gonna stay on as long as I think I can make a difference in making sure that every student has an equal opportunity to succeed, and I don't think we're there yet."
As a former public housing commissioner and affordable housing board member, Tuck-Ponder commends the many new developments in the district, but sees the consequent overcrowding issue in PPS elementary and middle schools as her main priority if she is elected to a third term.
"I know about the need for affordable housing in Princeton, but we have overcrowding in three of our elementary schools [and] in our middle school. We recognize that we can't put so much of a burden on our taxpayers that they can't afford to stay, so it's about being able to reach that balance and accommodate all students … while continu[ing] to aspire to a high quality education for all," Tuck-Ponder said.
Eleanor Hubbard
Eleanor Hubbard, a former Princeton University assistant professor and author, is one of two new faces seeking election on the Board of Education. With the hope of bringing a teacher's perspective to the board, Hubbard would focus on providing more academic oversight in terms of curriculum and instruction, as well as being a sensible voice for the Princeton community.
"I think we have board members who are really good at thinking about budgets and facilities … but I don't think that there is necessarily as much expertise in terms of thinking about curriculum and instruction, and those are issues that are very close to my heart," said Hubbard. "I've taught both [at the] elementary school and college level, and I feel that that hasn't been the focus of the board for the past several years, and I think it's had some unfortunate consequences."
In addition to revisiting the social studies and science curriculums in elementary schools, as well as solving the issue of rising enrollments and overcrowding, Hubbard hopes to rebuild trust between parents and board members.
"There's been a lot of drama over the last couple of years. I've been talking to a lot of parents and a lot of people are angry and distrustful," said Hubbard. "I think it's really important, if we're going to move forward in a positive way, for the district to focus on trust rebuilding work so that we can get to a place where we can work together and move forward."