PHS welcomes first foreign exchange students since 2019
October, 2023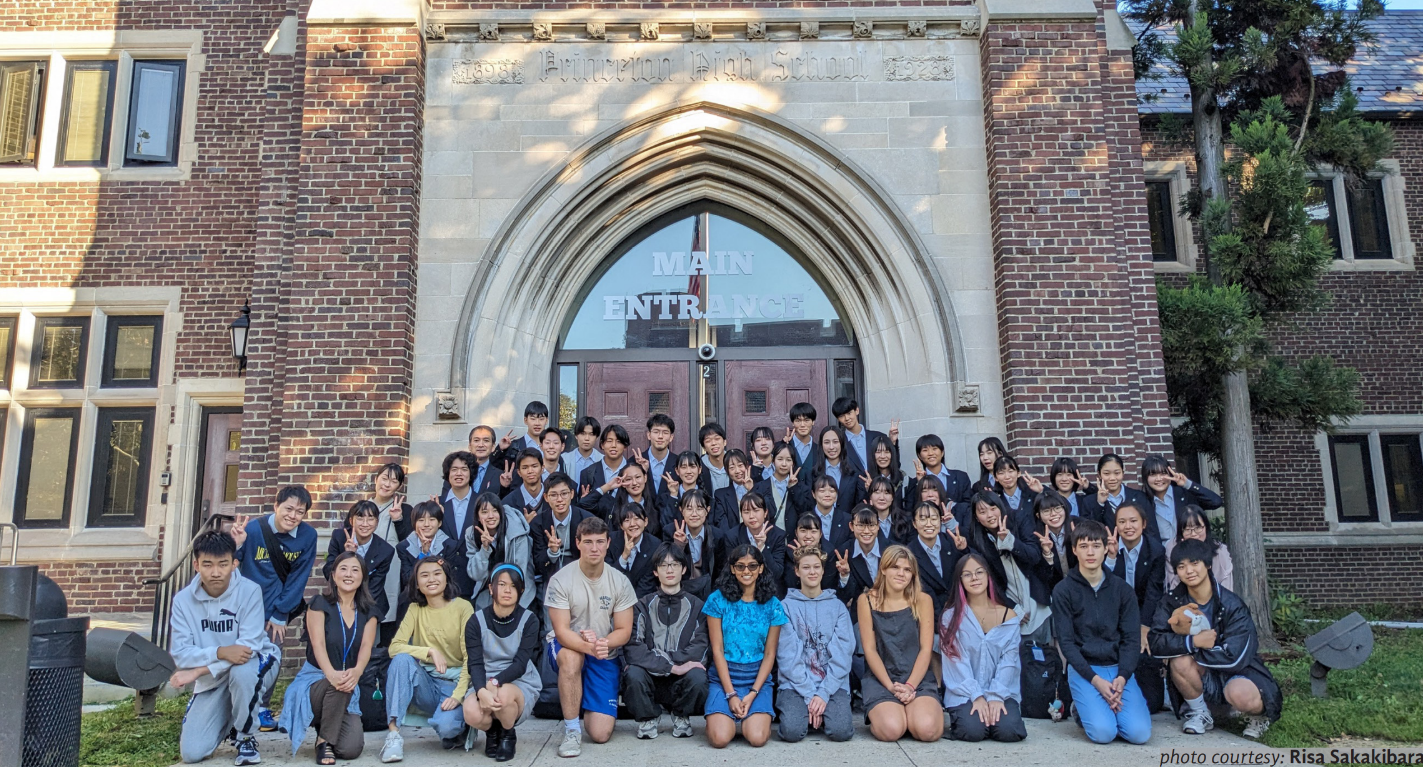 Throughout the month of October, foreign exchange students from Izumigaoka High School in Japan and Lycee Bartholdi in France arrived on PHS' campus as a part of PHS' foreign exchange program for the first time since 2019. There, they were greeted by PHS Japanese and French students, who hosted them for a week.
Both groups had the opportunity to observe classes in various subjects, creating art pieces in art class and learning about American history at PHS. Through these foreign exchange programs organized by the PHS language department, PHS and Princeton's sister cities could exchange lifestyles and study at overseas high schools.
"Such initiatives play a crucial role in promoting international cooperation, understanding, and friendship among students from different parts of the world," said PHS Japanese teacher Risa Sakakibara, one of the facilitators of the program. "It's heartening to see efforts being made to deepen the bond between the U.S. and Japan through educational and cultural exchanges."
This year marks the foreign exchange program's 35th anniversary. The program began in 1989 during a PHS choir trip to Colmar, where former PHS French teacher Bernard Ponsan connected with the French high school Lycée Bartholdi, inviting their French students to visit PHS. This reciprocal interaction eventually developed into an official exchange program between the two schools.
"As much as we try to maintain an immersive environment in class, [the exchange program] makes learning much more immersive because the [students] are with French people and they're in France," said Malachi Wood, a PHS French teacher and principal facilitator of the exchange program for 16 years. "A lot of [students] become more motivated. They're excited to get to know somebody on that one-on-one personal level."
Though fun, the primary purpose of these programs is to provide a new experience for students in a language-learning environment. Programs where students can interact with their language in a real life setting challenge students, but also create a unique opportunity for them to hone their speaking abilities.
"In my house, we normally speak Japanese. But in order to give the exchange student an American experience, we spoke in English the entire time," said Seigo Iwata '26, a participant in the Japanese exchange program.
While in Princeton, exchange students traveled to popular locations in town with their host students, the student providing them housing. Japanese exchange students took walks on Princeton University's campus. Peruvian exchange students shared meals with host families in Conte's Pizza.
"What they do is shadow an American kid, [seeing] what an American teenager would do. Their hosts can tell them what they're doing that day or prepare something fun for them," said Martha Hayden, a PHS Spanish teacher and facilitator of the exchange program.
During the French exchange students stay at PHS, they shadowed their host student and attended all of their classes, even participating in the host's extracurricular activities. When PHS French exchange program students leave for France in November, they will do the same at Lyceé Bartoldi. An exciting itinerary awaits these PHS students, featuring famous French landmarks and museums.
"Every year, I try to do something different," said Wood. "Usually we see the Louvre, [and] the Musée d'Orsay. What I'm excited about is that we're going to see a World War II memorial, where the French and Germans faced off with trench warfare. And, we will visit one of the only concentration camps that was in France."
Education aside, another big aspect of the foreign exchange programs is getting exposure to different lifestyles and cultural customs, developing lifelong connections with host families. French students dressed up to attend their first Homecoming dance on October 14. Peruvian exchange students spent their first Thanksgiving alongside their host family.
"My favorite part is seeing the kids get to know each other. The day that we're leaving, everybody's crying. A lot of students [develop] lifelong friends because they stay in touch [and] visit each other," said Wood. "I hope that their horizons are broadened."